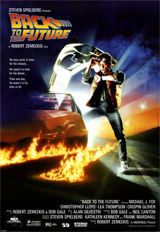 Well dudes, here it is: the final episode of Web Zeroes, appropriately and unimaginatively titled Series Finale. If I could have chosen a subtitle, it would fall anywhere in the range of "Earth Zeroes" to "In Which They All Became Cylons". In a happy coincidence, the finale is a huge tribute to Back to the Future, which happened to have its 25th anniversary last weekend. Funny how these things sometimes work out completely unplanned.
In this episode, the guys put everything on the line to get their show done in time to deliver it to Revision3. There is some battling, advice from war heroes, BttF-ing, and more. I think it stands as maybe the best episode we've done, and among some of our best work, partly because of Jace's killer anthem near the end of the episode. Then again, I'm a little biased.
There's not really much else to say to you guys about the episode, other than thanks for watching it. We always knew that we would lose a lot of viewers after Leet World ended, so those of you that continue to hang out, comment, watch our show and share it with others are among some of the cooler folks on the planet. If you're interested in reading some more of my thoughts on the end of Web Zeroes, I've put a few over on my blog. And if you happen to be in the Houston area, you should come say hi to us at the WZ Series Wrap Party this Saturday, where we'll be hanging out and having fun.
For now, hit the jump to watch the final episode! Continue reading →