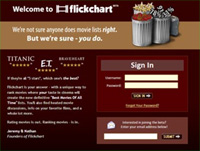 Right on schedule, here's Episode 4 of Web Zeroes, Flickcharted Territory. In this episode, Alex takes his lessons from Bobby King and attempts to gain leverage over Nate and Ray. This is one of the two episodes that we knocked out over Labor Day weekend with Jace and Jeff in town, the second being Episode 5. Personally, I think it's perhaps the best yet. We'll see if you agree.
Once again, thanks to all of you who watch, comment and spread the word about our goofy shows. Also, you should check out the subject of this episode's central conflict, Flickchart. It kind of rules and we were all seriously addicted to it for several weeks over the summer. Sign up and support the dudes there.
To download the episode or see higher res versions, head over to Revision3, or subscribe to Web Zeroes on iTunes. If you're having problems playing the video, update your flash, or go to YouTube.
Expect some more TLW content at some point next week. Hopefully it'll be more outtakes, but we shall see. For now, hit the jump to see the new episode of Web Zeroes!
Continue reading →